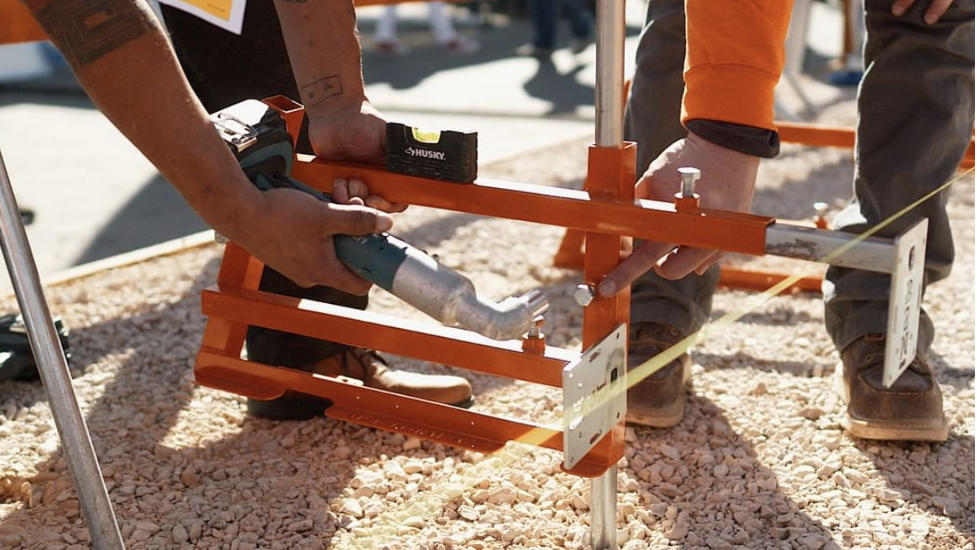 Formwork vs Falsework: What's the Difference?
You may hear the words 'formwork' and 'falsework' thrown around on site from time to time. While they both are used to describe supports that help to form concrete, their roles in the process differ immensely.
Both falsework and formwork date back thousands of years and have been used to construct buildings, viaducts and bridges for centuries, and they still play an important role as temporary support in construction projects of today.
Read on to learn more about how formwork and falsework are different, what they do and how they support buildings, big and small.
What is falsework?
To better understand falsework, take a look at the bridge below. It's almost finished, but not quite able to support itself yet. All those yellow beams are operating as falsework. Falsework essentially serves as temporary support to hold concrete segments in place until the building materials are completely cured and stable.
Falsework systems can include:
Aluminum support frames and legs
Durable steel falsework
Aluminum or steel props with timber beams
Why is falsework necessary?
Construction projects, big or small, are a huge investment. That's why falsework is so important, as it helps to maintain budget requirements and reduce costs. Falsework takes on the loads and stresses so that a structure remains supported, even when it can't support itself.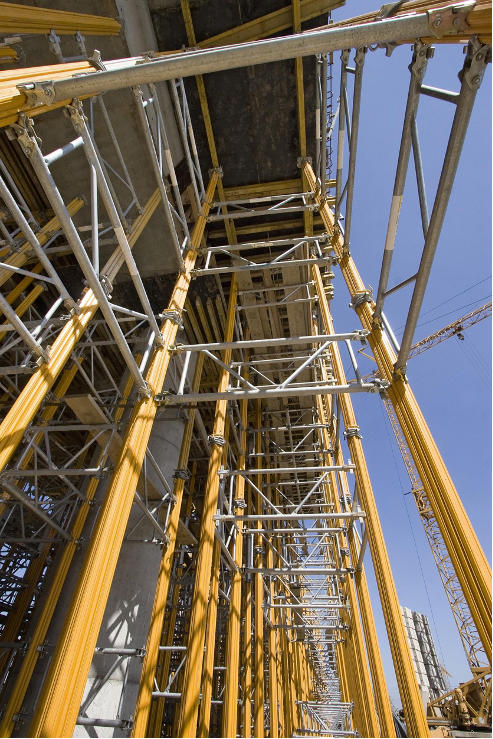 What is formwork?
Formwork also supports buildings, but in a different way. Formwork consists of temporary moulds that help keep the shape of concrete until it hardens. Once the concrete dries, the formwork is dismantled.
A range of materials can be used for formwork, including:
Timber or plywood
Stell
Aluminum
Plastic
The importance of formwork in construction
Not only does formwork ensure structural safety of the product, but it also ensures proper access to help protect workers during construction. Proper formwork can also reduce the amount of time it takes to carry out a project which can help eliminate certain costs and ensure budgets are followed closely.
The quality of formwork is also important, as it can affect the safety of workers in addition to the efficiency and expenses of a particular project. High quality formwork should also be considered as defective concrete is very expensive to repair. For this reason, it's important to consider not only quality formwork, but also high quality supports for your formwork.
Supporting your formwork with MSB Form
Timber pegs, walers, lumber kickers and nails can be used to keep formwork in place, which can be tedious and costly. However, new technology has been introduced, completely transforming the way concrete is laid.
Say hello to MSB Form, the adjustable formwork solution that is designed to improve efficiency and safety. This product works on any conditions, from soil to sand, and can be used for a range of building applications.
Contact MSB Form today
Offering an extensive range of formwork frames, including frames that can be used for slabs-on-ground, ledges, elevated slabs and decks. Whatever application you are looking for, MSB form is designed to provide unmatched results for commercial and residential construction projects.
For more information on our products or general enquiries on how they can be used to improve your project, get in touch with the team today by using our online contact form.